THE BEST WAY TO CONNECT HUMANS AND TECHNOLOGY.
Techno24 specializes in digital solutions, offering well-planned and super reliable hosting services. Our servers based in Montreal, Quebec, Canada. In addition to cutting-edge networks, we offer effective personalized phone and email support.
Our technicians do their best to understand your Web hosting needs and respond appropriately. Our team of experts will lead you through our service implementation process from A to Z.
That's the Techno24 5-star service!
Services for your business
Office 365 Exchange Online
Ideal for businesses that need a email service and other professional services. Office applications not included.
Web Hosting Basic
3 GB of Disk Space
10 GB Monthly Traffic
No Activation Fee
Bitdefender enterprise software
Bitdefender brings together an antivirus, anti-malware and firewall in a multi-layered security solution with a Cloud Management Console.
Techno24 has hosted our website for 5 years. We can always count on them to help us configure our e-mail accounts and have the right time on the security of our website. We appreciated his help in implementing our new website on their servers. Thanks to the Techno24 team!
Dominic Mayer, Gestionnaire réseau, Trica Furniture
Techno24 has hosted the website and emails of Clinique du Haut-Richelieu (CPHR) since its opening in 2013. Being a booming business, changes and the addition email addresses were numerous. Techno24 knew how to guide and advise us throughout this development and has been of invaluable help several times. In addition to the reliability of their servers and their availability, Techno24 offers an expert service tailored to the needs of its customers. Thank you Techno24!
Caroline Milot, Clinique pédagogique du Haut-Richelieu
Techno24 hosts my website (and all that entails) for six years now. Michel Bergeron has always gone beyond my expectations. I cannot count the times he came to my rescue with whatever problems over the years, and at any time of day or late in the evening. Michel does not count his time when he helps out his customers – I know I'm not the only one, but he has a way of making us feel very special. This is what describes an unparalleled customer service! Congratulations Michel!
Gisèle Aubut, Aubut Communications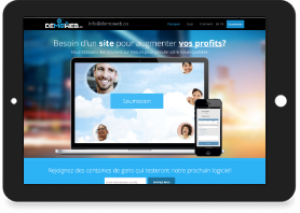 It was a Tuesday and a few of my sites were attacked by one of those pesky scripts that infect to the bone. I was then not yet a customer at Techno but I still called Michel and he took the time to help me, for free! A few months later, I became a client, at 10 pm to be exact! If there is indeed a company that knows how to turn something as cold and dry as hosting a website into something welcoming and humane, it's Techno24! Thank you Michel!
Derek Morin, Demoweb
The website Jolois Consultants is hosted by Techno24 and we are very satisfied with the service, especially for the reliability of their email servers.
Jean-Marie Jolois, Jolois Consultants
Reliability and service, two words that best describe Techno24. Our construction company experienced an incredible growth and Michel at Techno24 advised us perfectly how to deal with this change. Our email addresses were changed to IMAP from POP in a jiffy. The addition of new email addresses for our employees was done extremely fast. Techno24 also took over the hosting of our new web site. If you want a personalized service made easy, Techno24 is for you.
Rhéa Fauteux, ing., Les entreprises Sifec Nord Inc
It's almost two years now since Techo24 began hosting my site. The hosting is good and the servers are reliable. And what to say about the customer service: courteous, available and beyond reproach. Michel Bergeron and his team are very friendly, very helpful people and I like doing business with them.
Serge Vaillancourt, Les Productions JPSM